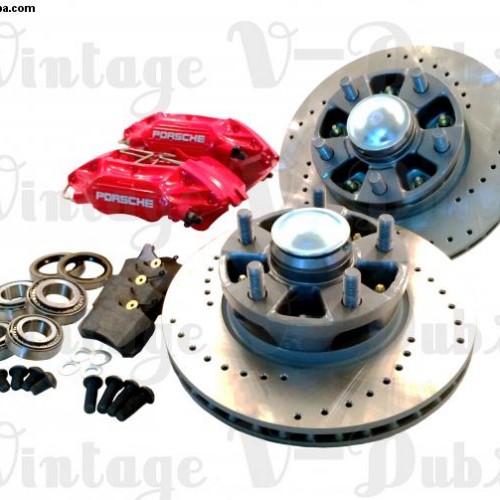 Porsche Brembo Brake Kit
Looking for the ultimate brake set-up for your bus? Look no further! Vintage V-Dubs is now carrying our Ultimate Disk` Brake kit with Genuine Porsche Brembo Calipers. This latest break through from our research and development team has brought nothing seen or comparable of this magnitude to the market before.
This skillfully engineered and hand assembled Brembo Disk Brake Kit is the ultimate brake set-up and the best money can buy. Comes standard for Porsche pattern 5×130 wheels but can be fitted to 5×112 or 5×205 wheel patterns as well. *Must run a minimum of 16inch diameter wheels.
Parts list:
: Pair of factory 944 hubs
: Pressed dust caps
: High Grade Cross Drilled & Vented Rotors
: Mounting Brackets (NOT PICTURED)
: Porsche Brembo 4 Piston Calipers with Dust Boots (Powder Coated Red)
: Porsche Brake Pads
: Mounting Hardware
: Complete Set of Wheel Bearings
: Grease/Dust Seals
For any questions, details, or to purchase, I highly recommend you call and speak with one of us at the shop!
Prices:
$1659.00 for 5x130mm Wheel Pattern.
5x112mm Wheel Pattern – Call for Price
5x205mm Wheel Pattern – Call for Price
**Upgrades:**
Since you're getting the  ultimate Brembo brake assembly & kit on the market you should consider upgrading your entire system with our Stainless Steel Braided Brake Lines for front and rear eliminating any brake line swelling and loss of pressure. We have the correct lengths for all years in stock!
Also, check out our stainless steel brake line clips! Best quality and even better price.
**Up Grade Prices:**
Stainless Steel Braided Brake Lines – Front & Rear $119.00
Stainless Brake Line Clips – $3.00each